WHAT'S NEW FOR 2001

What's New for 2004
What's New for 2003
What's New for 2002
What's New for 2000
What's New for 1999
Links may no longer function for old news archives

December 1st, 2001
November 15th, 2001
November 9th, 2001
September 22nd, 2001
September 19th, 2001
September 16th, 2001
August 29th, 2001
August 28th, 2001
August 27th, 2001
August 16th, 2001
June 26th, 2001
June 25th, 2001
June 22nd, 2001
May 12th, 2001
May 11th, 2001
May 9th, 2001
May 8th, 2001
May 1st, 2001
April 24th, 2001
April 18th, 2001
December 1st, 2001
REAL, ACTUAL, COMPLETELY-VERIFIABLY NEW STORIES (no, really!):
For the longest time this page could have been called the 'What's Not New' page, but guess what? I've posted some new stories (remember those?). All thanks should go to Ilene and Sara for making it possible. More will be coming along shortly. And be sure to check out the New Authors and the New Pairings pages. Here we go (I'm so excited!):
STORIES:
There are forty stories new to the archive, a mix of f/f, m/m and m/f.
FEMALE/FEMALE
Ascension (145 K)
By Penumbra, Xena the Conqueror/Gabrielle, NC-17
Summary: Tells the eternal tale of betrayal, love and distrust as the forces of the nation of Hellas shift with the volatility of the screaming wind. The Conqueror is lost, in herself and in her sorrow, but can she be found? Sequel to Penance and Blood Meridian.
This rating is for explicit f/f sex and bdsm.
Opacity (19 K)
By Penumbra, Xena the Conqueror/Gabrielle, R
Summary: Years have passed, but life in ancient Hellas is as bloody as it always has been. A brush with her past prompts the Conqueror to reflect on herself and on her influence on others. Companion piece to the Conqueror Trilogy.
Conversion (102 K)
By warriorjudge, Sister Maria/Sister Gabrielle, (Sister Gabrielle & m (Father Johann)), NC-17
Summary: Uber. A love affair between two nuns, Sister Gabrielle and Xena the Prioress, in a convent in 18th century Germany.
This rating is for explicit f/f sex, attempted m/f rape and character death.
Infidelity (55 K)
By warriorjudge, Xena/Gabrielle, (Gabrielle & Perdicus), NC-17
Summary: Xena saved Perdicus from being killed by Callisto. After one year of marriage, Xena comes to pay a visit to Gabrielle.
The rating is for explicit f/f sex.
Flashpoint (221 K)
By ArdentTly, Zeen/Abby, Zeen/various f, R
Summary: Uber. The after-effects of a chemical fire, and the wrenching truths that come out as a result, test Zeen and Abby's relationship. Sequel to The Blaze and Inferno.
How Long Till My Soul Gets It Right? (15 K)
By atara, Xena/Gabrielle, Xena/Lao Ma, (Xena & Hercules), R
Summary: While Gabrielle sleeps, Xena has a mental "conversation" with Lao Ma.
Now More Than Ever (17 K)
By Sara, Xena/Gabrielle, PG-13
Summary: Xena's mysterious pregnancy causes friction between the lovers. This story takes place directly after 'Animal Attraction'.
Triumph (36 K)
By Sara, Xena/Gabrielle, NC-17
Summary: Gabrielle tries to convince Xena that their love is worth saving. Sequel to Trials and Tribulations.
This rating is for explicit f/f sex.
The Reckoning: Part Three (9 K)
By Amazon, Xena/Callisto, Xena/Gabrielle, (Xena/f), (Callisto/f), NC-17
Summary: Callisto has some unusual plans for her captive. Work in progress.
This rating is for explicit f/f sex and bdsm.
Under the Kenyan Sky: A Romance (233 K)
By Portia Richardson, Kate Chavez/Serena Hewitt, Kate Chavez/Lisa Calltreaux, Kate/Rachel, Dafton/Jimiyu, Serena & Elliot, Serena/Heather, NC-17
Summary: Uber. A PBS chef, Serena, and a PBS filmmaker, Kate, meet at a pledge drive and it's instant chemistry. But once Serena manages to follow Kate into the Kenyan bush, things aren't so idyllic...
This rating is for explicit f/f sex, violence and animal abuse.
Warriors In Need (9 K)
By Klancy7, Xena/Gabrielle, NC-17
Summary: Gabrielle finds sleep impossible, until Xena provides spirited and stern instruction. Post-FIN fic.
This rating is for explicit f/f sex, implied non-consensual sex and bdsm.
MALE/FEMALE
A Chance Encounter (22 K)
By The Celtic Bard (Daniel), Gabrielle & m (Prince Kashta), R
Summary: Takes place in India, following the events of the Fourth Season episode 'Devi', but prior to the events in 'Between the Lines'.
This story was removed by request of the author
Love is not Love (13 K)
By Aly, Ares & Aphrodite, (Xena & Ares), R
Summary: Does even the Goddess of Love understand the nature of love?
Married with Fishsticks: The Missing Scene (11 K)
By MommaMuse, Crustacea & Hagar, NC-17
Summary: Hagar and Crustacea celebrate their 'renewed' wedding vows early.
This rating is for explicit m/f sex.
Naked Warrior (310 K)
By GingerQ, Ares & f (Daria), Ares & Discord, m (Lord Novick) & f (Daria), NC-17
Summary: A young, pretty, mortal woman catches the attention of the God of War. But when it becomes apparent that another god already had plans for the girl, things get complicated... Mary-Sue
This rating is for explicit m/f sex, bdsm, sexual violence and rape.
Sara's Gift (35 K)
By GingerQ, Ares & f (Sara), NC-17
Summary: Ares spends a final night with a loyal priestess. Mary-Sue
This rating is for explicit m/f sex and mild bdsm.
Night Thoughts (46 K)
By Kristy (Sarsel), Xena & Ares, Xena & m (Corhonus), Meg & m (Corhonus), NC-17
Summary: Even the Warrior Princess has needs.
This rating is for explicit m/f sex and bdsm.
Please Forgive Me (57 K)
By Milou, Gabrielle & Ares, Eve & m (Nathaniel), Virgil & f (Beth), m (Nathaniel) & f (Beth), Xena & Hercules, PG-13
Summary: For so long Ares has been hiding a secret. After the Twilight, Gabrielle needs answers, so she goes to the God of War. She isn't ready for what she finds.
A Switch of the Role (135 K)
By Saul Trabal, Joxer & Meg, R
Summary: Three warlords want to gain access to the last ambrosia on Earth. In order to do so, they need the help of a god or demigod. They bring the Sovereign-Hercules' evil twin-back to life to help them. Xena must stop the three warlords, and return the Sovereign to his own dimension. Sequel to Braving the Inner Storm and A Taste of Déjà vu.
Vibrations of a Bell (29 K)
By Thamiris, Xena & Ares, (Ares & Aphrodite), NC-17
Summary: Ares finally deals with Xena's rejection. Takes place after the episode 'You Are There.'
This rating is for explicit m/f sex.
MALE/MALE
Guerradio (157 K)
By Thamiris, Guerradio/della Corintia, Guerradio/Amadeo, Guerradio/Baccho, Guerradio/Mortregno, NC-17
Summary: Uber. Set during the Italian Renaissance, Ares (Guerradio) is a decadent, depraved cardinal who receives a visit from a sculptor, Iphicles, whom he sets out to seduce.
This rating is for explicit m/m sex, mild bdsm and potentially non-consensual sex.
Anyone for a Swim? (80 K)
By Euphonius, AU Iolaus (Jester-merman) & Nautica, m (Euphonius), R
Summary: As the result of a sea voyage, Euphonius is reunited with someone he never expected to see again. Seventh part of the The Euphonius Scrolls series.
Resolutions (118 K)
By Euphonius, Hercules/Iolaus/m (Euphonius), Hercules/Iolaus, NC-17
Summary: Euphonius meets Iolaus again, after the hunter has been banished from the Light. Eighth part of the The Euphonius Scrolls series.
This rating is for explicit m/m sex.
Mortal Love (27 K)
By MB, Strife/Jett, Ares/Joxer, R
Summary: Jett becomes a follower of Strife, with unexpected ramifications for gods and mortals alike. Part of the Brotherly Love series.
Practice Makes Perfect (13 K)
By MB, Strife/Jett, NC-17
Summary: PWP. Strife holds a training session with his young follower. Part of the Brotherly Love series.
This rating is for explicit m/m sex, bdsm and sexual violence.
The Dungeon (10 K)
By MB, Joxer/Jett, NC-17
Summary: PWP. Joxer and Jett steal away to their private playroom for a bit of fun. Part of the Brotherly Love series.
This rating is for explicit m/m sex, bdsm and incest.
A Taste of Punishment (19 K)
By MB, Joxer/Jett, Joxer/m (Laikus), Ares/m (Laikus), (Ares/Joxer, Ares & Discord), NC-17
Summary: A slave needs to be punished and Jett convinces Joxer to wield the whip. But all is not what it appears to be. Part of the Brotherly Love series.
This rating is for explicit m/m sex, bdsm and incest.
Just Like Old Times (25 K)
By MB, Joxer/Jett, (Ares/Joxer), NC-17
Summary: Joxer reminisces as he plans a meeting with Jett. As they catch up, Jett reveals some interesting information about the God of War. Part of the Brotherly Love series.
This rating is for explicit m/m sex, bdsm and incest.
If Wishes Were Horses (53 K)
By MB, Joxer/Jett, Ares/Joxer, Gabrielle & Joxer, Strife/Jett, NC-17
Summary: This story begins the morning after Just Like Old Times and Joxer is at a crossroads. Will he choose the woman he's obsessed with or his brother? Sequel to Just Like Old Times and part of the Brotherly Love series.
This rating is for explicit m/m sex, bdsm, sexual violence and incest.
Fruit of the Vine (19 K)
By MB, Joxer/Autolycus/Jett, NC-17
Summary: Autolycus shares an evening with the twins and has too much wine with dinner. Strange things happen.... Part of the Brotherly Love series.
This rating is for explicit m/m sex, bdsm and incest.
The Prisoner in the Room (16 K)
By MB, Ares/Joxer, NC-17
Summary: Ares uses physical and emotional torture - to Joxer's delight. PWP
This rating is for explicit m/m sex, bdsm, torture and sexual violence (snuff).
Rejoined (30 K)
By Hind's Blood (Noa), Hercules/Iolaus, Xena/Gabrielle, (Hercules & Serena), (Xena & Ulysses), NC-17
Summary: Xena and Gabrielle help Hercules and Iolaus with their relationship.
This rating is for explicit m/m sex.
MIXED
The Alchemist's Dream (130 K)
By Thamiris, Marsius/Phaestion, Phaestion & Aphra, Aphra & Clifford, Phaestion & f (Berceline), Phaestion/m, NC-17
Summary: Uber. Phaestion and Marsius become part of a murderous plot in Elizabethan England, a world full of spies and feasts, tournaments and blasphemy.
This rating is for explicit m/m and m/f sex, and mild bdsm.
Like a Virgin (160 K)
By Thamiris, Ares/Autolycus, Ares & various f (temple priestesses), Ares & f (Theia), (Autolycus/Iolaus), NC-17
Summary: Autolycus is recruited by a mortal Ares to recover his sword, and Auto plots to make Ares overcome his homophobia - and isn't afraid to use all the tricks in his arsenal. Humor.
This rating is for explicit m/m and m/f sex, and mild bdsm.
Between Friends (66 K)
By Jenx, Xena/Gabrielle/Ephiny, Xena/Gabrielle, f (Trilee) & m (Larion), (Xena/f (Marnie)), NC-17
Summary: Ephiny has been driving the Amazons nuts with her bad mood. Luckily Xena and Gabrielle show up to celebrate the Regent's birthday - and they suggest a relaxing evening to take the edge off. But when the three start playing Truth or Dare, things get dangerous...
This rating is for explicit f/f/f and m/f sex.
The Gift (22 K)
By Hind's Blood (Noa), Gabrielle & Ares, Ares/m, Gabrielle/various f, Gabrielle & various m, various m & f, (Xena/Gabrielle), NC-17
Summary: Can Ares tempt Gabrielle with the power to save the world?
This rating is for explicit m/f and f/f sex, drug use and potentially non-consensual sexual activity.
A Hero's Reward (11 K)
By MB, Joxer & Aphrodite/Discord, Aphrodite/Discord, (Gabrielle & Joxer), R
Summary: Joxer gets an unexpected reward for saving Gabrielle's life. Set after 'Married with Fishsticks.'
Lao Ma's Kiss (85 K)
By Elaine Sutherland, Xena/Lao Ma, Xena & Borias, (Xena/Gabrielle), NC-17
Summary: Xena's and Lao Ma's accounts of events during and after 'The Debt', detailing the profound effect each had on the other.
This rating is for explicit f/f and m/f sex, and mild bdsm.
Panta Rei (28 K)
By Ashera, Ares/Caesar, Caesar/various m, Ares/m, m & f, various m/various m, NC-17
Summary: Change is inevitable.
This rating is for explicit m/m and m/f sex, sexual violence, rape and torture.
Remembered a Hero (165 K)
By Euphonius, Iolaus/m (Euphonius), Iolaus & f (Siann), m (Euphonius) & f (Siann), NC-17
Summary: Euphonius learns some hard lessons about war and warriors from Iolaus and some of his old friends. Ninth part of the The Euphonius Scrolls series.
This rating is for explicit m/m and m/f sex.
November 15th, 2001
TWEAKING:
I'm just checking story links and site links. But I will start organizing a story update next.
November 9th, 2001
A BIT LATE:
Okay, I missed my deadline for the end of September, but guess what? I actually finished loading up all of the old stories. Yes, that's right! Every story link should now be operational. I will now go through the Title, Author and Pairing pages to make sure that all the links are good. I just noticed today that something I changed on one of the pages awhile ago was back the old way, which means that I loaded up an older version of a file at some point. It's really frustrating, cause I don't know when and why it happened - I'm super anal about 'version control'. Same thing happened with my master archive file, so I've lost some information that I'd saved. If you're an author, please take a moment to check your stories for accuracy (do I have your most recent e-mail address, url?). And please bear with me if I email you with annoying questions about your fan fiction submission. Which reminds me...
NEW STORIES:
Ilene, the newish story editor ;), has been dutifully preparing submissions for me. Now that the old stories are finally up (only took me more than a year) updates are my only archive focus. Which means that story updates will be appearing very soon. Hopefully before the end of this month. This also means that the New Authors page will finally become operational. Sorry to all the authors who have had to wait a year to see their interviews show up. As well, to help make clear who does what, I've set up a Contact Info page. All hail Ilene and Sara, the intrepid volunteers :)
NEED BETA READERS:
Hopefully once the archive is humming again there will be a real need for beta-readers who are ready and willing to proof Xena, Hercules and Young Hercules fan fiction - especially adult stuff ;) I've even put up the Beta Readers page, so it's all ready and waiting. C'mon people! Help out your fellow bards.
September 22nd, 2001
COMPLETING THE ARCHIVE:
I have now loaded up all pre-existing stories up to the letter 'Q'. I will load stories that start with the remaining letters of the alphabet next. I will be finished before the end of the month. As for adding new stories, Ilene and I have already begun formatting. New updates should appear in October.
September 19th, 2001
GETTIN ON WITH THINGS:
I've been adding stories non-stop for a few days now, and have been fixing links on the links page as I go as well. I'm almost finished up to stories starting with 'N' now.
Took two more sites off my missing sites list. 'Xena Fan Fiction Plus' merely changed their name and moved: Xena Slash Fan Fiction Review is going strong and looking for Witchblade fic. I also got a nice letter from Stewart, the guy who had hosted 'XenaNet', the Internet-based group for Xenites in Britain, Ireland and associated Isles. He explained why the site had disappeared. As to whether the site will ever appear again...
September 16th, 2001
TRADEGY:

I have been looking for a charity for the merchandise store for some time. Unfortunately, the horrible events of September 11th, 2001 made the decision for me. All proceeds from sales will now go towards the New York State World Trade Center Relief Fund.
The American Red Cross is another worthy charity. Canadians can donate blood as well through the Canadian Blood Services. Call 1-888-2-DONATE (1-888-236-6283) to make an appointment.
To read how other Xenites are dealing with the terrorist attacks in New York, Washington D.C. and Pennsylvania, and to hear some personal stories, go to Mary D's Attack on America page.
My heartfelt sympathies go out to all Americans - and to people across the world. Everyone has been touched by this horrific event. And to illustrate that, check out this page (thanks to L.A. Stone for sending me the link).
August 29th, 2001
MORE PICTURES:
I've added even more pics to the Gallery, this time thanks to Findle who sent them to me. Yay Findy!
August 28th, 2001
BETA READERS:
Tweaking the submissions page, it occurred to me that I should start listing beta readers for adult/romantic pairing Xena and Herc fan fiction on this site. It only makes sense - especially since I'm always recommending them. I won't launch it until I have new fic to post (and Ilene and I are working on that right now), but if you're interested in volunteering as a beta reader then send me an email and I'll start collecting a list now. Please include information about your fiction preferences (f/f, m/m, m/f, mixed, specific characters) and your skills with spelling, grammar, plot, etc.
August 27th, 2001
NEW PICTURES:
I've added some new pics to the Gallery, although I didn't even get through a fifth of what I wanted to scan. More to come soon. Thanks Danny Boy! ;)
August 16th, 2001
GETTING BACK INTO THE GROOVE:
I got really lazy again, but I'm back.
STORY STATUS:
I am still loading up stories onto the server. Stories starting with the letters 'A' to 'M' should be working (there a coupla stories starting with 'L', 'M' and one with 'K' that still need to be fixed). I'll be loading up stories starting with 'N', 'O' and 'P' next. As I posted before, only the Listings by Title page is getting my full attention. Because I got tired of emails asking me why the pairing pages weren't working I have updated the links on the Listings by Pairing and the Listings by Author pages. However, as I continue the loading up of stories I won't have the time to check them. Only when I have completed the loading of stories will I make a thorough check of all the pages.
EBAY PHOTO WARNING:
One of the many things that have been distracting me lately is eBay (which was created by the devil ;). Wishing to collect more Xena photos to scan for the archive, I bid on a bunch. Some of the auctions I won resulted in legitimate 8x10 photos, but one in particular didn't. I was very dismayed to find that one seller was making copies of official photos and then auctioning off the inkjet copies without explaining that that was what she was doing. Besides the fact that it's completely illegal (and I had a discussion with a friend about whether this was hypocritical of me considering my interest in, and defense of, 'fan' works), it's just a really shitty thing to do to Xenites. After I explained to her why I wasn't happy and gave her neutral feedback (I was tempted to make it worse), she had the audacity to post a response that claimed that other people had been happy with their photos and I was just impossible to please. She has no shame! Just because some people weren't aware that they were being sold copies doesn't justify her taking advantage of them. Man, that pisses me off! And now I have a bunch of crappy photos that aren't even remotely scan worthy. GRRRR! In any case, don't buy any 'photos' from gabrielleamazonwarior on eBay (her taking that name even pisses me off). And make sure to always read the feedback of sellers before you buy. Some deals just aren't worth it. 8(
June 26th, 2001
PETITION:
I was asked to post a link to the Bring Xena Back To The Xenaverse! petition, so here it is. Don't read it if you don't want the series finale spoiled. Course, if you haven't already heard by now...
June 25th, 2001
UPDATES:
Okay, finished loading up 'K', 'L' and 'M' stories, and am now on 'N', 'O' and 'P'. I'm getting there! I should be loading up new stories in July with the help of an awesome, new volunteer - Ilene. I'm only a year behind. And the show is already bloody finished! I suck!
THIS WEEK ONLY - $5 OFF MOUSEPADS:
To celebrate their Webby nomination, CafePress.com is having its first ever sale. From now till June 30, 2001 - all mousepads are $5 off! So be sure to check out the Xena and Gab mousepad at the Ashera's Archive merchandise store.
And by popular demand (okay, mainly Findle ;) I will be adding new designs to the Ashera's Archive merchandise store, including some ensemble stuff with other characters. Findle was nice enough to send along a pic of the small cup, and it looks pretty decent. Check it out. CafePress also claims that they are going to be adding new thicker mousepads, and I will buy one as soon as they're available. I did add an Ares/Caesar shirt, with an artwork that I made for The Xine. It'll still be in the fanzine, but I thought it'd make a cool shirt. Man, I wish that they would let us print stuff on black shirts, but I hear that it's more expensive to do that.
ANNOUNCEMENT:
Kewl! Klancy7's full novel-length version of The Clinic is finally out. Tristaine "focuses on the fierce love that develops among strong women facing a common evil". Check it out!
IT CAN'T BE OVER!
On a personal note, I'm still interested in running the site, for now. I still think that there's lots of cool fiction to read and write (and I don't think that the show being over has really sunk in yet). I'll try and keep motivated for as long as I'm able. My psycho Xena bud Julie (Xena Torres) and I actually held a weird, little, Pagan memorial thing for Xena: Warrior Princess Sunday night. We burnt a bunch of stuff, listened to Xena funeral music, said eulogies and threw rose petals. Then we burnt more stuff. Then we felt nauseous and coughed a whole lot. If the pictures turn out I'll post them. If that doesn't prove what a nutball I am...
June 22nd, 2001
COME TO THE PARTY:
Totally sad and late notice! We are having a goodbye Xena party at our (me and a few other Xena knobs - including Xena Torres) house in Vancouver, tomorrow, Saturday June 23rd. If you live around the Greater Vancouver area in BC, or live in the States and are willing to make the trek up, you can come and be geeks with us! We're going to watch the last two Xena eps (yes, we've seen them - but I swear that we won't spoil them for anyone who hasn't seen them) at 4:30 pm and then have a barbeque at around 7pm. And people are welcome to show up at noon and go home whenever. We have con pics to show off and a disgusting amount of Xena merch. Both the upstairs and the downstairs of the house will be open to the party (I live in the dungeon), and we'll probably watch some other geeky things, like the recent interviews that Lucy has done. The people upstairs are also going to have their lesbian baseball team come over for the barbeque, so it's going to be pretty packed and fun. Very lesbian and straight friendly, so everybody is welcome! Bring your own booze and barby stuff. If you are interested in coming, or just want more info, then send me an e-mail and I'll give you our address and my phone number (we live in the Kensington area of Vancouver). C'mon! It'll be fun. You can chew me out for being a bad archivist.
LINKS:
I've taken baermer's site off of my disappeared list and it's back on the links page. Thanks Storm! And from what I understand, Tragedy88's Xena Fanfiction was partially moved to MaryD's and the old page is now defunct. And Obsession's Home Page is back up and updated. As for the rest, I'm going to ask the people on XAS.
May 12th, 2001
NEW ASHERA'S ARCHIVE STORE:
In an effort to support the site I took the cue from ForevaXena and set up a store to sell Ashera's Archive merchandise. Because I don't want to be sued, the items that have official Xena/Gab pics on them aren't for profit (even though the photos were altered significantly), but all other items provide one dollar (US) toward the running of this site. And *every* item will provide one dollar for charity. I've just sent off some correspondence to CafePress.com asking whether they have a system whereby one dollar could automatically go to charity from every item. I hope so, cause I'd prefer not to have to worry about it. Still, if this does not work out, I'll probably choose some kind of woman's charity - keeping with the tradition of the PNW Xenafests that I helped run. I'm Canadian, so I'm not sure how I'll work it. Maybe an international organization. Anybody have any ideas? Anyway, you can find the store here, and it's now linked from the front page as well.
Oh yeah, and give me feedback about the designs. I know from ordering from cafepress before the mousepads are really thin and kinda flimsy - but they work. The t-shirts are fine, although I have no way of knowing whether the designs will be okay (I'm a little worried about the dark design on the ash t-shirt). As soon as I un-max my credit card I'll order one and see ;) Hope you guys like 'em!
May 11th, 2001
MORE STUFF LOADED:
Okay, I've finished loading stories up to 'I' and 'J', and am now moving onto 'K', 'L' and 'M'.
Watched 'When Fates Collide' last night. Don't worry, I won't give away any spoilers, but it was the first time that I was hugely charged up during an episode for a long time. And boy, does it *ever* open up a whole lot of opportunities for fan fiction - of all kinds ;) Woohoo!!
May 9th, 2001
LOST SITES:
After going through the links page I found a whole load of sites that seem to have disappeared. Thank goodness the Xena Archiving Society was created. It's rather depressing really. If anyone knows what has happened to any of these sites, please write me:
The Righteous Cause of Strife Temple - Specialized in Strife and Deimos fan fic.
DJWP Fanfic
Chakram-1's Xena:WP - Fan Fiction Index
The Xena/Joxer Relationshipper's Page
Hercules: TLJ Fan Fiction Pages
Jerry's Xena and Ares Page
Tragedy88's Xena Fanfiction, Poetry and Artwork
Miltiades' Joxerverse: Joxer Fan Fiction Reviews
Fanfic Supporters Guild
Oh, and if you haven't noticed, 'The Ultimate Fan Fiction Directory' is temporarily down.

ANNOUNCEMENT:

Forgot to put this up before....

A new list and organization has formed to try to preserve XWP fandom materials long-term. For a while now on a number of lists the topic of archiving has continued to come up. Every time a site closes or a bard disappears or we loose Xena fanfic or art or videos for some other reason, Xenites inevitably mourn the loss and start to discuss what can be done but so far we haven't really organized any type of manageable, long-term archiving effort. Thanks to fellow Xenite AND fellow librarian Frankie, we now have a starting point :-) Frankie has created a list on Yahoogroups called Xena-archivists for discussing, planning and hopefully implementing the archiving of XWP fandom materials long-term. I'd like to invite any of you out there that are interested or have a stake in this, from bards to artists to webmasters to regular Xenites who think they might be able to help with the effort or at least offer ideas, to join us on the list. It is not going to be a list for chatting or discussing the show in general. It's purpose is specifically to discuss archiving so it will not produce an over-whelming amount of e-mail. If you treasure the contributions our Xenites have shared with us and think it would be great to keep those available in the years and decades to come - consider joining us. You can do so by clicking on the list-name above or by sending an e-mail to Xena-archivists-subscribe@yahoogroups.com. Please feel free to cross-post this message to any mailing lists you're on that may be interested or to announce the lists on other sites.
"The mission of the XAS is to preserve, for future generations, the imagination and creativity found within the Xenaverse. Fan fiction of all types and genres, as well as artwork, videos, sketches, montages, wallpapers, fanfic covers, and many other methods of expression are being gathered." [from the Xena Archiving Society Mission Statement by Shadowriter]
Xenites interested in volunteering for archiving duties, web site related activities or just interested in providing input about this endeavor can visit: http://xas.adahost.com/ for information about how to join the e-mail list and to view the offical mission statement.
May 8th, 2001
UPDATES:
I survived the con! Woohoo. I had a good time with my Xena-knob friends, despite Cremation. I was being such a goof the whole con ;) Hopefully some of my pics will turn out. And wait till I scan all the official pics I bought for the site! Hope everyone else had fun. 'WHAT SHE SAID!'
Updated the links page with loads of stuff. Still working on 'I' and 'J'.
May 1st, 2001
UPDATES AND PASADENA:
I've finished loading stories up to 'H', and am now starting on 'I' and 'J'. I'm almost half-way through all the stories now. I've also been offered help from a great person (who I won't reveal until it's official ;), so new stories (as in *real* new stories - really!) might start showing up faster than I had predicted. Wouldn't that be nice for a change? An archive that actually posts new stories?! Can you imagine?
And...after all my whining about not having money I am...ahem...going to the con in Pasadena. *cough* Hey, I bought the tickets and reserved the hotel before I was laid off - and the tickets are non-refundable. So, I won't have much spending money - I can't buy all those pictures I want =( - but so what. I'm soooo excited. AHHHHH!!! hehe. Since I don't have any fanzines to sell, I won't tell you how to find me. I'm also scared that I might get beat up ;) But why can't Kevin Smith be there? *whine* It's so not fair! Okay, estrogen levels going down.... Breathe. I'm okay. Anyway, I'll get back to loading stories after May 7th. Well, that is, if I'm not beaten up at the convention. Or unless Kevin Smith shows up at the con unannounced and I have an aneurysm.
April 24th, 2001
JOXER FAN FICTION FANS:
Want a chance to nominate great Joxer fan fic for an award? The Golden Quill Awards were started in an effort to recognize and reward the excellent work of the Joxer the Mighty fan fiction authors. Check out the site for the stories that are eligible for the 2001 Golden Quills. Nominations have begun and will run through May 10th. Get your vote in!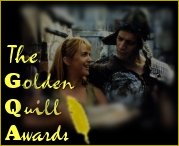 April 18th, 2001
BLAH, BLAH, BLAH:
I got really sick of working on the site. And every time that I tried to read e-mail I just got depressed. Then I was laid off, and then I moved to a new place and didn't have an Internet connection for awhile. So, I do have the time to work on the site again, for a while anyway, but I can't say that I'm that motivated. I'm burnt out. No promises. Also, my e-mail is receiving but won't let me reply. Not sure what's wrong yet. So, to all of you who sent letters about the site's links being down or requests for updates, my apologies if you didn't get a response. And thanks so much for the people who told me that they loved the site. 8)
As for what the actual status of the site is, I have been loading all of the stories onto the server alphabetically, and have finished 'F' and have started 'G' and 'H'. In addition, only the Title page has had it's links updated, and subsequently the pairing and author pages will work sporadically. I have no idea when I will be finished with the loading or when I will start posting all of the stories that I have been sent to me during this down period. If someone would like the responsibility of adding new stories, including their formatting, editing and loading, please send me an e-mail at Ashera@asherasarchive.com. I think that it's pretty obvious that I need help in keeping up. Excellent skills in spelling, grammar and punctuation are a must, nevertheless.
I was asked to remove stories by Rooks and Morgan, the author's having different reasons, and will be doing that shortly.
As I cannot afford to do a run of the fanzine I will be unable to offer copies at the moment, and will be delayed in giving contributors their copies as well. I have updated the information on the Xine page accordingly.
Sorry folks,
Ashera

What's New for 2004
What's New for 2003
What's New for 2002
What's New for 2000
What's New for 1999