WHAT'S NEW FOR 2005
What's New for 1999
What's New for 2000
What's New for 2001
What's New for 2002
What's New for 2003
What's New for 2004
What's New for 2010
Dec 5th, 2005

NEW BLACK SHIRTS IN THE STORE
Finally! Black shirts are available from cafepress.com. Not that I can design anything that I really want to, but ...whatever. I have added one black t-shirt to the store that will probably be discontinued soon.
Will be adding more designs again, and I'm sure that many will be removed continuously. Oh well. At least I have finally updated the T-shirt part of the store. Cafepress.com also has Free Super Saver Shipping on orders over $50. Coupon Code: FREESHIP Offer Date: Nov 15 - Dec 6

MEDIA
Have added a couple of new walls, both special dual monitor ones on the wallpapers page.
I'm working on a gallery update.
Oct 8th, 2005

BIPOLAR ANYONE?
Up, down. Buggered. Better. Sheesh! I have been on a roller coaster the last week or so, and I've been adding to these update notes all during that time. So, some stuff is a little...inconsistent? Sometimes I'm in an awesome mood, and other times... I meant to get this photo update finished at the end of Sept, so some of the info is late too - like Renee's stuff on ebay. The deal is that I was laid off last Wednesday Sept 30th, from my new "perfect" job that I had left my previous job for....So, you can imagine how awesome that felt. And then I just found out yesterday, Fri Oct 7th, that I managed to get a new job, thanks in large part to my friend Julie. Needless to say, that was a huge relief and load off. Even though I'd still prefer to have the job that I initially went after, but, yeah, being able to pay the rent is good, you know? Anyway... if I seem like I'm being manic depressive, now you know why ;) Not that there's anything wrong with that.

AND JUST A LITTLE LATE
This time it took me nine months to make a What's New page for 2005. It's like giving birth! Hell, I might as well have left it till 2006. But no, I didn't. I finally finished slaving over the photos and got an update done. Why? Because I CARE. Really care. I could say that I came back for all you 'little people,' but the truth is, I just really wanted my newer photos up on the damn server ;)
Did I just call you all 'little people'? Yes, I did. But hey, doing an interview for xandrella went right to my head. I haven't sent in the answers yet, so it's not up yet. I guess I should pull out that old interview for Amy Murphy of Whoosh that I never did get around to sending in too. I think it's about twenty pages long now. Maybe I shouldn't have included all of the information about my childhood trauma. Why anyone would want to talk to me.... Should be entitled: "How Not to Run a Fan Fiction Archive"
But I do have some excuses. I've been busy. And stressed. I started a new job in the middle of August (because the last one was going to put me into an early grave), and I loved my new job. Really loved it. Which made me feel that it was too good to be true. So, I kept waiting for the other shoe to drop. And then it did. I got laid off on Wednesday. So, guess I'll have some time to keep adding photos for a couple of days. Then I'll have to put the grief on hold and find another job pronto. So very depressing... Why can't I just win the lottery? I'd be such a benevolent rich bastard. I swear! *sigh*

SEATTLE CONVENTION AND GENTLEMEN PREFER BLONDES
Too much to say. But I'll try a quick summation: bought eight million photos, was a pissy grump after missing Lucy's auto out back of the theatre on Saturday night but whimpered my way to one on Sunday (and my bud Jenna filmed that!), Steve Sears was super nice as always, yay for Renee showing up at the dance (and I'll have some pics shortly), poo-poo to my so-called friend Julie for getting me eliminated from the trivia contest on Sunday and stopping me from winning $50 to get even MORE photos :P Course, I guess I should forgive her because she's already started posting pictures from her digital cameras and the video of me getting my Lucy sig, as well as her getting her Livia t-shirt (that I made for her) signed by Lucy...*deep breath*... and I was a major tit. I think that's pretty much it. Oh yes, and Lucy was fab and yay I got to stand next to her. Figured that'd never happen, considering I'm stuck in Vancouver, Canada. And it was me who started singing "geeks on parade" while walking down to the 5th Avenue Cinema with the gold seat group on Friday night ;)
I forgot to mention that we were in the front row of the con. Very nice. And thanks to Jenna and Julie for that :)
Jenna has posted pics from the con too. And check out Julie's and Jenna's write-ups. They go into waaaay more detail ;) But be warned: Julie's site is a slooooow load.
Here's my photo with Renee. Renee is a teeny bit out of focus and I look like I'm on drugs, but it could have been worse. Despite my 80's rocker hair that day.
Renee was so gracious. And no, I missed what happened when Renee got upset. I heard a little about it, but really don't know anything. Still, she came back after having a cry apparently, and soldiered on. Classy lady.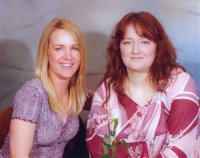 It's always nice to pose for a picture with someone who is half your size. I just know that some people are gonna see this and say, 'that was YOU?! You are a tit!'
You know what probably impressed me more than anything else? When Renee showed One Weekend a Month. I was surprised to find myself a little choked up by the end of it. It's definitely a short, but it packs one hell of a punch. And that punch is all Renee. Now, Diamonds and Guns looked like silly fun, but One Weekend a Month was on a whole other level, and Renee managed to capture what felt like a life's history in a 5-minute short. Superb work and a real indication of what she's capable of - not that we didn't see that on Xena, but....
I'd love to see Renee doing more dramatic roles, as much as I'd love to see her kick some ass again ;) People always talk about how awesome it would be to see Lucy doing this or that, like Alias or something. I want to see Lucy AND Renee on some other wicked shows. (Not that I watch Alias - I couldn't keep up, then tried to catch up in one summer but failed, and will now wait for the show to end and then borrow Julie's DVD sets. hehe. Hey! She owes me! ;)
What's kinda embarrassing is that most of the photos I bought were Xena pics. Course, I didn't have much of a choice. A convention where Renee is headlining and they had like 6 shots of Renee out, and I already had most of them. I don't understand why they don't release more 6 season pics of Gab kicking ass in the red velvet. C'mon!
Anyone that was there might also remember me as one of the people on the stage with Steven during the 'writing brainstorming' thing (I'm the gimp in the front with the same loud shirt), during which I managed to:
a) forget I was wearing an uncharacteristically low-cut shirt and lean precariously forward
b) snort while laughing and blow snot out of my nose while on stage
How cool is that?! Oh! And then when Steven blew off my story suggestion I completely lost it, cussed him out, ripped my shirt off while screaming at the crowd, and threw my folding chair through the viewing screen thing. Remember that? Wonder if there are any pictures...

Thanks to Gypsy for saying 'hi' after the con! :)


NEW PICS

I have so many scans to add that I can't do them all at once. I've added 41 new pics to the gallery, including a batch of cop-out Xena circle pics. I've finally added separate galleries for my autographed pics and for FIN pics.

Some of the photos took me forever to clean. See, I was a stupid twit at the convention: when buying a bunch of the cheaper, older photos I just grabbed the copies off of the top of the piles. So I got some which were pretty scratched up. Doh! Plus, because I have a letter-size scanner I have to piece together the larger photos. I spend hours on those alone. Seriously :/ I challenge anyone to find the joins ;)

Been adding a few wallpapers in the last month too, as I continue cleaning up scans.


THEY MISS US. THEY REALLY MISS US.

I'm sure that all of you geeks already know this, but Renee is currently auctioning off some unique items on eBay to help raise money for her Diamonds and Guns project (and now for some Katrina-related charities as well, apparently). Looks like it's working out pretty well so far. Hell, if I could I'd definitely bid on the photos. She looks good! So good, I had to be bad and steal it for a sidebar pic ;) The other sidebar pics which are unique are photos taken by either Julie, me or Jenna at the convention.

God help the dumb bastard who tries to give her bad feedback ;)

And Lucy and Renee have finally started their own sites. Lucy's web space is pretty lean at the moment, but hopefully will be very cool and not too exclusive. Yay Lucy! And Renee's official site looks interesting, if unfinished. She'll be starting an official fan club with memberships in the future. Lucy will too. Not sure that I like the association with Sharon and Creation for Lucy's page, however. Just means more and more ways to pay for more and more crap. We already have that with the Creation fanclub, so why can't Lucy's site just be about her and what she's doing? Anyway, I'm not going to bother joining the mailing list. Just going to be eight million 'I love you' messages by people who hope that Lucy will read them.

Sorry, but I'm feeling a little pessimistic and poor at the moment...


NOT AGAIN!

Yes, I've done it again. I've started a new site. But this one I'll probably actually keep up because it plays directly into my addiction with Xena photos. Also, it's the kind of site that I could happily pass over to someone else's more diligent direction. Unlike this archive, which I'm way too possessive about.

It's always bugged me that referencing photos was hard, so viola! I'm starting a Xena photo reference guide listing thingy - or www.mastercat.ca for short. I'd appreciate any help with info, especially now while the site is in its drooling, diaper phase. In many ways, the site is only as complete as it is at the moment thanks to Sekhmet, who sent me tons of info. Thank you Sekhmet!





What I'd really love would be for people to send me either scans of - or actual physical copies of - those black and white inserts that used to come with the chakram newsletters that would list the current photos and their Creation numbers. Anyone?
Sharon has agreed to help me fill in any holes that I can't fill myself (stop snickering), but I want to exhaust every resource I have first before annoying her.

THE GULF COAST
What to say? Other than I wish all the best to those affected. And no one comes here to hear political rants from me, so no comment on the Bush admin's handling.

Alrighty, that's it. Bugger off ;) Oh, and Happy Thanksgiving all you Canucks.